SEO, PPC, and Google AdWords Management for South Florida
American Creative is a South Florida search engine optimization and pay per click management company. We have become one of the leading Internet marketing resources in the area, and our reach actually extends all around the country. Over the decades that we have been in business, our company has build a client base of over 12,000 satisfied customers. When you work with us to devise a comprehensive SEO strategy that includes Google AdWords management, you can proceed with confidence. We have a long history of success, and we continue to build on it each and every day.
Experience is great, but you also have to be willing and able to evolve along with the industry that you are in. This is particularly true in the search engine optimization business. The search engine rules are subject to change, so you have to keep your finger on the pulse and adapt your SEO strategies. You can rest assured that your South Florida search engine optimization initiative will be in line with the times if you engage us to increase your bottom line.
Pay Per Click Management for South Florida Websites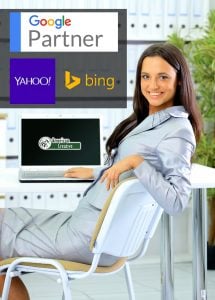 Through the implementation of state-of-the-art search engine optimization techniques, you can maximize your visibility on the organic level when people conduct relevant searches. However, this is only part of the South Florida Internet marketing equation. To have all of your bases covered, you should also include a pay per click initiative. You can have your message broadcast through Google, Yahoo, and Bing networks, and you can also target social networks like Facebook and LinkedIn. Effective PPC AdWords management is the key to efficient campaigns, because the terms that are relevant to your business are relevant to your competitors as well. There is bidding involved, and our Google AdWords management team can make sure that you get optimal return on your pay per click investment.
Let's Get Started!
If your website is not driving sales, search engine optimization and Google AdWords advertising expertise can have a truly transformative effect. Our South Florida Internet marketing specialists will gain an understanding of your business, discuss your objectives with you, and make the appropriate recommendations. Ultimately, we can devise a budget conscious strategy that keeps your website in the public eye. You can give us a call right now at (888) 226-7608 to speak with one of our South Florida SEO experts.