Most companies used to have repeat messages or nothing at all while callers were on hold, but the trend is now towards radio and advertising on hold through messages and customized music. Radio on-hold is advantageous in that the company does not have to spend money on professional voice talents, script writers, and production facilities and in that radio is interesting and keeps callers glued, but on hold advertising has a lot more benefits.
With on-hold advertising through messages or customized music, you need not worry about copyright issues. Note that radio stations are allowed to broadcast, but re-broadcasting is illegal and it could fetch as much as a $1,500 fine. On hold advertising/marketing is advantageous over radio on-hold in that playing on hold music from the radio means that the music is susceptible to cracking music or static while this is not a problem with on-hold messages. The cracking music and static is hard on the ear and this will be detrimental to your company's image. The ads that come between music are also irritating and they could cause the caller to drop the line.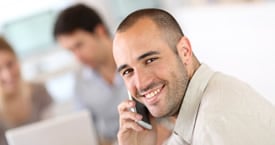 Advertising on hold is advantageous in that there is no risk of playing your competitor's ads. If you are playing music from a local radio, chances are that there will be ads from your local competitors. With answering machine recordings you get to pick the type of music to play. This is important because music with a slow tempo will lower the wait time. You also get to control the tone of voice that is used. The tone used goes a long way in promoting your course.
On hold advertising ensures that you pick content that will add value to your marketing campaign. The content could be cross promoting all the products/services that you offer, enhance your own, your company's, and your brand's image, promoting your site and any of its special features, motivating the callers to act such as to visit your website, and to ask questions, or to make a purchase. On hold marketing through answering machine recordings,  messages or customized music is also advantageous in that you will be able to pass your specialties and strengths across. That gives the caller  information as the awards you have won, your accreditation with such bodies as the Better Business Bureau and the relevant government and industry regulatory bodies, and membership to professional bodies. This will go a long way in enhancing your credibility. The hold music message could thank the callers for holding and assure them that they will be served as soon as possible thereby, reducing the call abandonment rate.