In the complex world of website design, one thing is certain: users have a mind of their own! When visitors land on a website, they bring their unique preferences, expectations, and goals. To cater to this diverse audience, it is crucial to create a user-friendly website design that understands and adapts to your user's needs.
This is referred to as the path of least resistance, and it is the most basic and powerful concept that you need to grasp when facilitating a user-friendly website experience.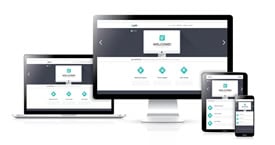 One of the key elements of user-friendly website design is the home page layout and design. The home page serves as the virtual front door to your website, and it is often the first impression that visitors have of your brand. A well-designed home page can captivate users, engage them, and guide them towards taking desired actions, such as making a purchase or filling out a contact form.
Website users are busy individuals with limited time and attention spans. They will always choose the clearest and easiest path to get what they need. This is why having a clean and efficient website, particularly a well-structured landing page, is essential. A cluttered and confusing website will only frustrate users, leading them to abandon the site and seek alternatives.
Professional Website Design Services

This is where professional website design services come into play. A reputable, professional digital marketing company understands the path of least resistance and implements effective website design strategies that lead users down a clear path. Using analytics as a guide, website design services gather feedback and refine website design to address areas of frustration and create a more ideal user experience.
At American Creative we understand the significance of an efficient website. Offering website design services throughout North America, we use our expertise to help you create a user-friendly interface that seamlessly guides your leads through your website, ultimately increasing the likelihood of conversions.
Whether you are just launching your business website for the first time, or your website could use a face lift, our team of skilled designers specialize in creating intuitive websites that align with your purpose and brand identity. Contact us today to learn more about professional website design services for your business!